The basic course contains the No BS Day Trading book and a set of video tutorials. The material covers all the basics with regards to trading off the order flow while watching the depth of market and several videos contain real trade samples and explanations for each trade. The contents include:
• No BS Day Trading ebook
• Terms defined video and documentation
• A video comparing multiple depth of market platforms
• A video which explains how the buy and sell orders influence movement and how you can identify areas where there may be good action.
• Documentation and screen shots of my setup which explain how to read the depth of market.
• A video which shows how a person can learn to scan multiple depth of market platforms at once. This is how I scan four treasury markets and the S&P at the same time.
• Trading videos – Strategies, setups and trade management in action. Real money and real trades which were made during webinars.
• Pre-market prep video – What I do prior to the regular morning open. Identifying levels and areas from previous days which may be important.
• Video which shows how I build my Jigsaw workspace from scratch.

The trades are good examples of the setups which I share in my book. This course is designed to familiarize you with the concepts of scalping and show you how these concepts are applied in the real world. It's not theory. It's fact. There are no guarantees and no setup works 100% of the time but these strategies are the same strategies which are used by professional traders all over the world on a daily basis. Like I said, scalpers don't all trade the same but yet, they do.
The ebook describes the key components needed to consistently make money. These are concepts you need to understand. They are critical to long-term success. I cover everything from commissions to platforms to specific strategies on how to read the orderbook. It is a good overall primer and after you read it, you will know fairly quickly whether or not scalping is for you. Be aware that some of it may go over your head on the first read but it will make more sense with multiple reads and reviews of the videos and the basic premise is actually very simple.
The "terms defined" video and documentation helps define the terms I use when explaining trades. Some of these terms are common in the trading world and some are my way of trying to explain certain types of price action. Understanding the terminology or "lingo" is important in any learning process.
The video comparing several depth of market platforms clearly shows why having a good platform makes all the difference in the world. If you've been trading on an inferior platform, you will be amazed at what you've been missing.
The videos covering the DOMs will help you understand where to place your focus when reading the order flow. They will also help you learn how to train your eyes in such a way that you are constantly scanning the price action across different markets. It's not as hard as it seems. It just takes practice.
The strategy videos show real trades that were made with real money. I explain the setups and give detailed reasons as to why I entered and exited the trades.
The pre-market prep video covers just that and yes, I admit, a wee bit of TA may be useful at times. This is where I discuss it.
After receiving many requests, I put together a video which shows how to build a Jigsaw Trading workspace from scratch. I go through all my settings and demonstrate why I have my layouts set the way I do.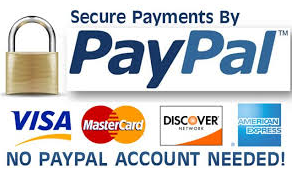 Clicking on the "Order Now" button will take you to a Paypal secure payment page. There you will be able to pay with either a credit or debit card or with your Paypal account if you have one. Once your payment is complete, you will be redirected to a download page. Be sure to "save" the file to your computer. The file is a .zip file so once you download it, extract the contents. You will then see a folder which contains the ebook along with text and video files. If you have any problem following the links after you purchase, just check your email account for an order confirmation email. You will receive an automatic email which has the link to the download. If for some reason you cannot access the file, send me an email directly and I will manually forward you the link as soon as possible. The file size is over 600mb so please be patient with the download.
Thanks for taking a look. If you find the material useful and would like to proceed further, check out the intermediate course and webinars.
There are no refunds for the basic course.